Upper Svaneti with Layla – Skitour / Freeride Trip 
In winter, the whole of Svaneti is completely different from the summer season. There are almost no random tourist, there are no coaches or roundtrips. This is due to the harsh conditions and difficult access road, which likes to be impassable after heavy snowfall. After Gudauri, Svaneti is the second largest winter sports centre in Georgia - we love it thanks to its almost unlimited possibilities. We are guided primarily by safety, but riding backcountry, freeride and skitting carries some risk, so as not to underestimate it, we adapt to the prevailing conditions and strictly follow the rules. Our participants unconditionally need to have avalanche sets (detector, probe, shovel) and know how to use them. We would like to point out at the beginning that the offer you are just browsing can be modified on an ongoing basis depending on the level of technical skills and the condition of the group and the current snow conditions. We are flexible, the dates are given for the standard offer but can be changed for groups of interested. Do you have a team of friends and other preferred dates? Write to us, we will try to arrange a program for you.
Detailed schedule:
Day 1
Transfer from Kutaisi airport to Mestia. The journey in winter, even though it takes only 240km, takes about 6 hours, although we remember the situations when we drove a lot longer - snow chains went in motion. We are accommodated in our guesthouse, dinner. Presentation of plans for the next days, discussion of the rules of movement, safety issues.
Day 2
After breakfast and quick check-in, we prepare the equipment and directly from our guesthouse we go on a technically simple but physically demanding tour towards the lakes Koruldi. We have to overcome at least 700m of elevation (up to 2200m). If they want, we can go even higher, even at 2700m. We will go down pastures and meadows, where animals graze in summer. It is not a difficult or avalanche-endangered route, but on the first day after the journey it is optimal. In addition, we will test our skills, knowledge of winter movement in the mountains and the prevailing snow conditions. After the descent a bus will be waiting for us, which will take us for the night. We will finish with dinner.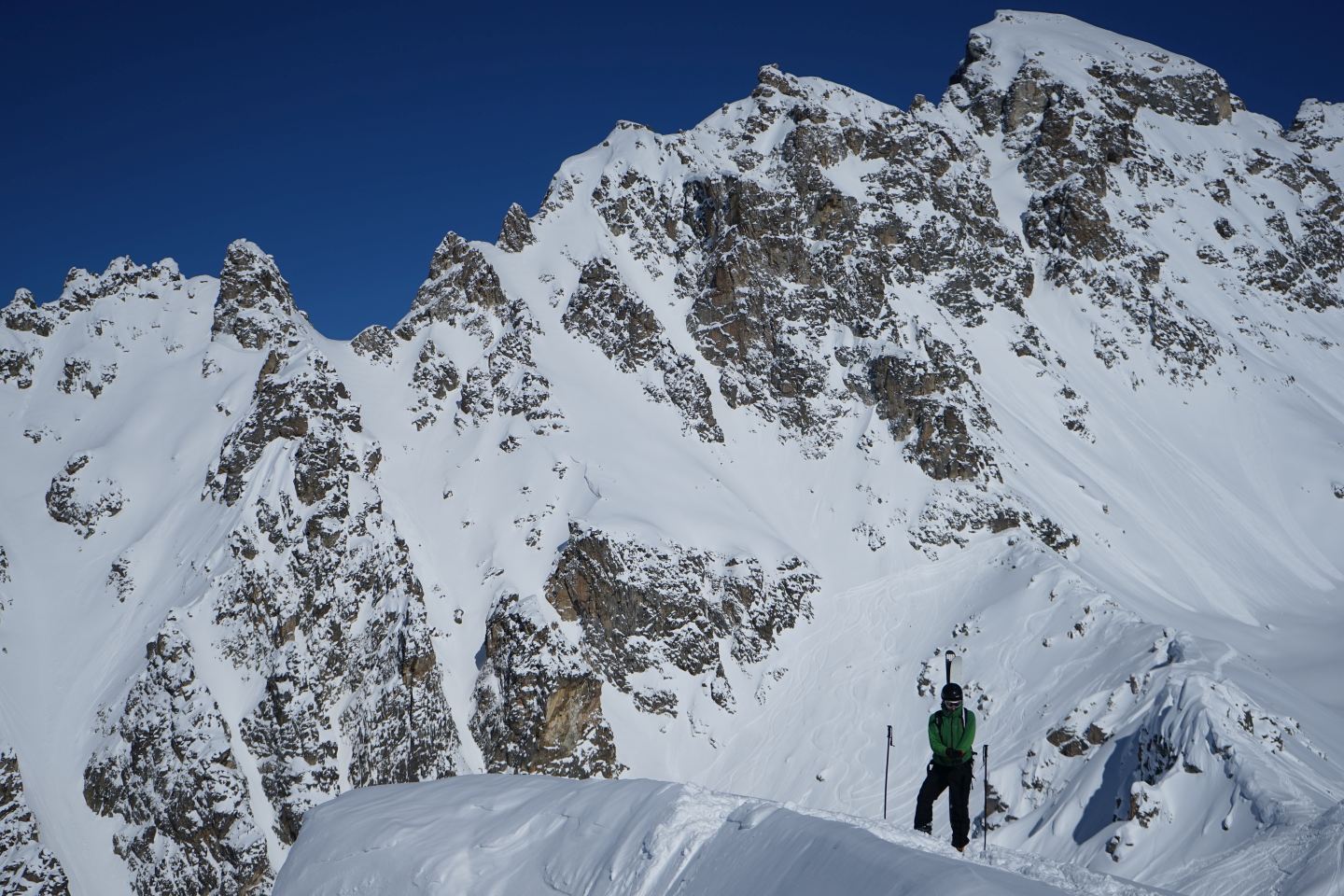 Day 3
Breakfast and briefing and then we have for you an interesting and very little known tour to the top of Kakhiani (3706m). This is the second so high mountain (just after Banguriani 3885m), which can be seen from almost every street Mestii. We will not reach the very top, because it is quite difficult (PD on an alpine scale) and impossible to get without taking off the skis. However, we will descend from around 3000m, from the ridge on which we will climb the ridge in the direction of the summit from morning hours. Our descent will run to the north and north-west, slopes and żlebami and then poorly wooded terrain will descend to the waiting for us car. Dinner at the end of the day.
Day 4
Breakfast, packing and drive to the neighboring settlement. As the previous day will cost you a lot of effort, you should take some rest. We will go to the resort Tetnuldi, where we can use the ski lifts. There we will make a few descents and ascents (it is not possible to get a lift everywhere). We have at our disposal both western and eastern exhibitions (towards the village of Adishi), we will suggest snow conditions and choose directions of downhill runs. The last downhill run will take place on the west side to our present accommodation in Zhabeshi settlement located at an altitude of 1700m.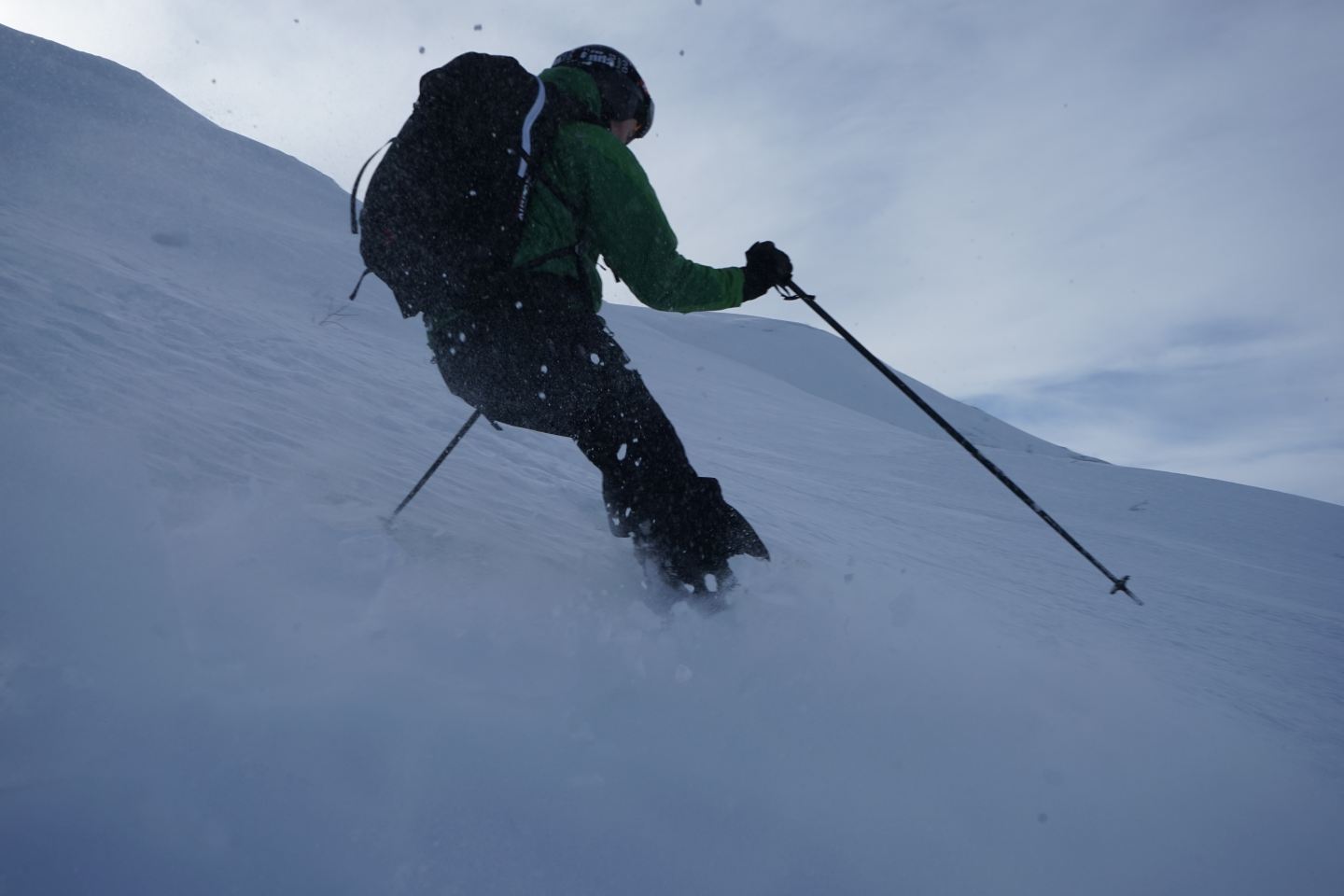 Day 5
In the previous day we will certainly not be able to pass the entire Tetnuldi area, so we will try to explore it further. This time we will try harder with our own forces. In the afternoon we will leave Zabeshi and go to the village of Zhumari, which is on the way to our next destination - the summit of Laila. After dinner we will prepare for the next day's departure with an overnight stay in the shepherd's huts.. 
Day 6
After breakfast we will go out towards of Mt. Layla (4007m). The road will initially run in a wooded area and then lead us to vast snow fields. After a few hours we will reach our accommodation, used in summer by shepherds huts, willingly used also for tourism. After depositing our belongings we will go on tour over the place of our accommodation. Due to the northern exhibition and short sunshine in the area, the snow under the Laila offers excellent quality until late winter weeks or even spring. Dinner will be prepared by the participants from meals brought with them.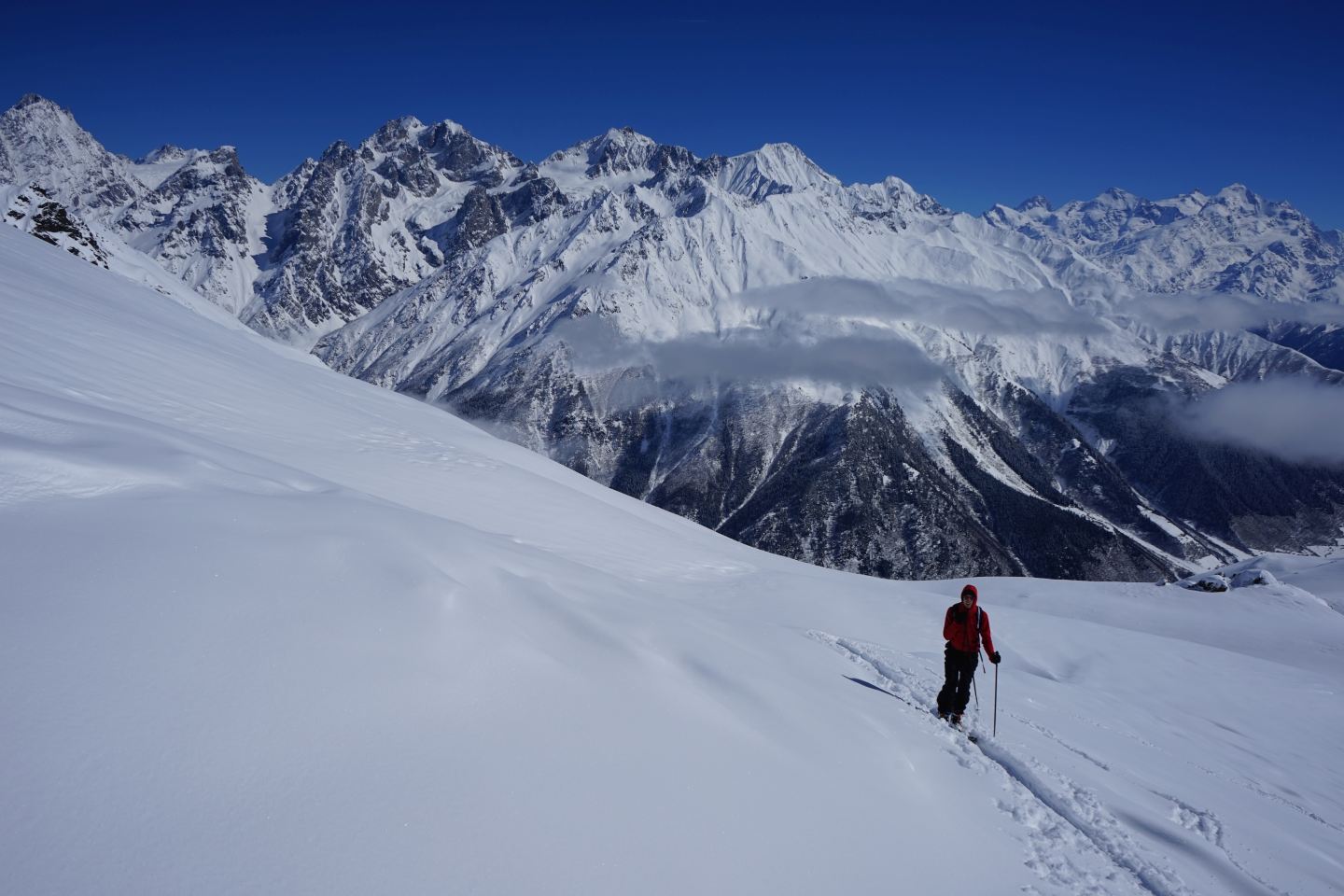 Day 7
Breakfast will also be served after preparation by ourselves. After that we will go on a tour to explore the slopes below the northern peak of Mt. Layla.  There are at least two interesting northern and northwestern slopes awaiting you. Unfortunately, the descent from the very north peak is beyond our reach on this expedition but we will find ourselves at an altitude of about 3400-3500m depending on the conditions on the glacier. The last descent will lead directly to our deposits in the shelter. We will take the things and go to the guesthouse where we will have dinner.
Day 8
The next day, breakfast in a traditional Georgian house, packing and transfer to the airport in Kutaisi.
Cost of participation:
699 euro/person
Included: 
transfers listed in the specific programme (Kutaisi Airport - Mestia - Zabeshi - Zhumari Airport - Kutaisi Airport)

chairlift tickets (Tetnuldi) - one day

any shuttle transfers required by the above program

accommodation (6 nights in guesthouses, rooms 2-3 persons with shared bathroom)

meals according to the program (breakfast and dinner)

local guide plus a group leader for each day of difficult terrain

technical support - we have several sets of skis at our disposal, in emergency situations (e.g. a malfunction) we will gladly make them available to the participants 
Not included:
flight to Kutaisi airport where the event begins (if your flight arrives in Tbilisi we will tell you how to get to us)

insurance (we suggest you buy a year-round such as Alpenverein cover for all activities including sports considered as extreme)

drinks not served during meals and provisions for excursions

the physical condition of the participants

weather, although we will choose our plans so as to take advantage of the conditions to the maximum

ABC avalanche sets

equipment for accommodation in shelters (matress, warm sleeping bag)
Available dates
18.01-26.01.2020

15.02-23.02.2020

29.02-08.03.2020
We emphasize that the dates are not rigid! If you have other suggestions, we will try to adapt to them.
An advance payment of 250 Euros is required for registration.